GEOMAGNETIC STORM UPDATE: We're still waiting for the CME. Right now minor geomagnetic unrest is happening at Arctic latitudes. This is due to a crack that opened in Earth's magnetic field--a phenomenon unrelated to the incoming CME. So far the much-anticipated storm has not yet begun. Subscribers to our Space Weather Alert Service will receive a text message when the CME strikes.

MODELLING THE CORONAL MASS EJECTION--UPDATED: NOAA forecasters have a sophisticated computer program called "WSA-ENLIL," which models the propagation of CMEs through interplanetary space. Here is the latest model for the CME now approaching Earth: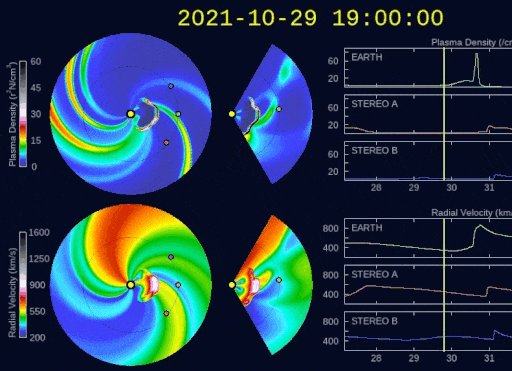 If these images confuse you, here is a labeled frame to help make sense of it.

The computer model predicts that the CME will make first contact with our planet around 1800 UT on Oct. 30th. That time has already passed, so the CME must be moving more slowly than forecasters thought. A slower moving-CME could deliver a weaker blow, and thus a less intense storm.

The model also predicts a sharp increase in solar wind speed (800 km/s) and a 5-fold jump in solar wind density in the CME's wake. Such conditions, if they materialize, could still fuel a potent storm despite the CME's tardy arrival.

Our revised forecast calls for G2 or G3 conditions during the early hours of Oct. 31st. Happy Halloween!