HOLES IN THE SUN'S ATMOSPHERE: Two and possibly three holes in the sun's atmosphere are facing Earth today. Emerging streams of solar wind could reach our planet on Aug. 6-7, sparking minor geomagnetic storms and high latitude auroras. Aurora alerts: SMS Text.

THE PERSEID METEOR SHOWER IS UNDERWAY: Earth is entering a stream of debris from Comet 109P/Swift-Tuttle, source of the annual Perseid meteor shower. Although it won't peak until mid-next week, the shower is already active. Last night alone NASA cameras detected more than a dozen Perseid fireballs over the USA, and Petr Horálek photographed this beauty burning up over the Czech Republic: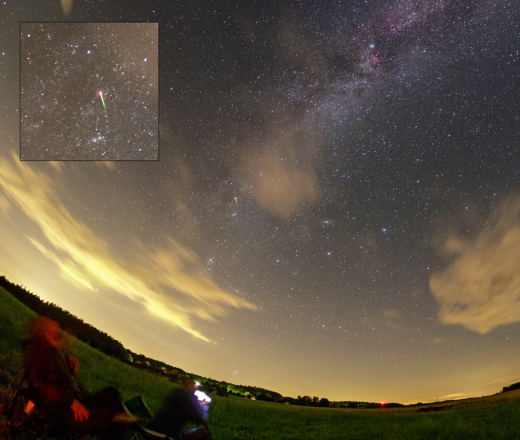 "I captured our first Perseid of the year over Proseč on Aug. 3rd," reports Horálek. "Its rainbow hues were visible despite suburban light pollution."

109P/Swift-Tuttle is a huge comet with a broad debris stream. It takes Earth weeks to cross it. The shower will probably be most intense on Aug. 11-12 (Wednesday night through Thursday morning) when our planet is closest to the stream's dusty core. Adjacent nights could be almost equally good.

When should you look? Perseids may be seen any time after ~10 pm. Rates increase sharply after local midnight when the constellation Perseus is high in the sky (sky map). Observers in dark-sky sites can expect to count dozens of meteors during the moonless hours before sunrise.

Pro tip: Get away from city lights! Light pollution kills meteors, as shown this composite image of last year's Perseid shower: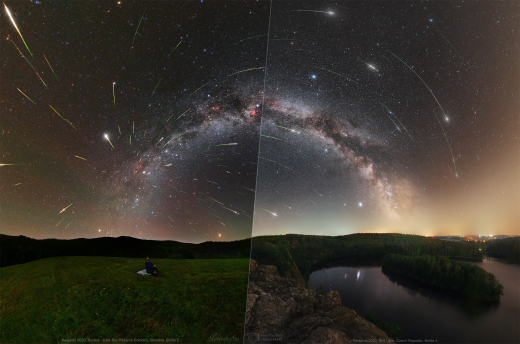 Tomáš Slovinský and Petr Horálek took the pictures last August from widely spaced locations in eastern Europe. "The left photograph comes from the darkest area of Slovakia – Dark Sky Park Poloniny with a Bortle 2 sky," explains Horálek. "The right image is from Seč lake in the Czech Republic, where you can find a less-dark Bortle 4 sky. The difference between these two classes of sky is about a thousand naked-eye stars and innumerable faint meteors."

"To enjoy the 2021 Perseids," he urges, "find the darkest skies possible!"