https://youtu.be/6UqLT6V8Hfo
WILL A CARRINGTON TYPE OF EVENT WILL OCCUR SEPTEMBER 23?
A SOLAR STORM IS PREDICTED TO HIT THE EARTH.
https://spaceweather.com/images2022/06sep22/farsidecme_opt.gif
This is incredible.. 9/5/22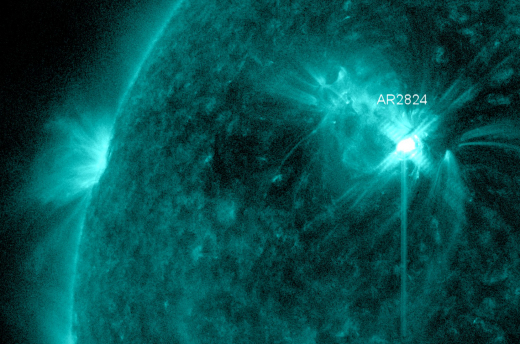 https://spaceweather.com/
SLEEPING SUNSPOT WAKES UP: After nearly a week of somnolent quiet, sunspot AR2824 is flaring again. An impulsive C4.8-class flare during the late hours of May 21st (1928 UT) was followed by an even stronger C6.1-flare on May 22nd (0256 UT). This image from NASA's Solar Dynamics Observatory shows the UV flash from the C6.1-flare:

AR2824 is now strobing Earth with pulses of ultraviolet radiation. Waves of ionization rippling through Earth's upper atmosphere have caused shortwave radio blackouts over North America on May 21st (map) and southeast Asia on May 22nd (map). Ham radio operators, aviators and mariners might have noticed unusual propagation at frequencies below ~20 MHz.

So far there is no sign of Earth-directed CMEs from these explosions; no geomagnetic storms are in the offing. However, stay tuned for updates. Newly-arriving coronagraph imagery from SOHO could change the forecast.
Last edited by Carol on Tue Sep 06, 2022 7:57 pm; edited 5 times in total