CHANCE OF FLARES TODAY: NOAA forecasters say there is a 35% chance of M-class solar flares today, and a 10% chance of X-flares. The most likely source would be sunspot complex AR3011-14-15, which produced an M2-class flare yesterday. Solar flare alerts: SMS Text
TOTAL ECLIPSE OF THE MOON: The full Moon just passed through the shadow of Earth, producing a total lunar eclipse. Kevin R. Witman photographed totality from Cochranville, Pennsylvania: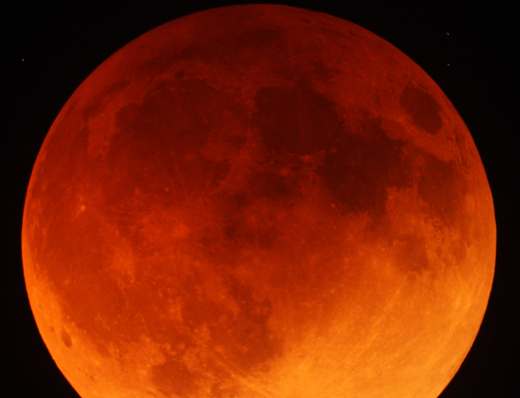 "I thought it was a darker eclipse compared to others I've seen with deeper shades of red and orange," says Witman. "I had to shoot a 3.2 second exposure at ISO1600 through my Meade LX50 10-inch SCT in order to collect enough light."
Many observers remarked on the darkness of totality. "It was one of the longest and darkest lunar eclipses I have ever seen!" says Thomas Leary of Portsmouth, Virginia. The lunar disk was so dark, Roberto Bartali of San Luis Potosí, Mexico, was able to see SAO159330, a dim star of magnitude +5.5 almost touching the Moon.
If the eclipse was indeed darker than usual, the Tonga volcano may be to blame. During a lunar eclipse, most of the light illuminating the Moon passes through Earth's stratosphere where it is reddened by scattering. When the Tonga volcano erupted on Jan. 15, 2022, it hurled 400 million kilograms of ash and fumes deep into the stratosphere. The volcano's lingering exhaust shaded the eclipse, making it a deeper, darker red than usual.