GEOMAGNETIC STORM--UNDERWAY NOW: A moderately strong G2-class is underway on April 14th in response to the apparent arrival of a "dead sunspot CME." During storms like this, auroras can descend as far south as geomagnetic latitude 55 degrees--e.g., Idaho and New York.
ANOTHER FARSIDE EXPLOSION: The Earthside of the sun is quiet. All the action is on the farside. For the third time this week, SOHO has detected a significant farside CME: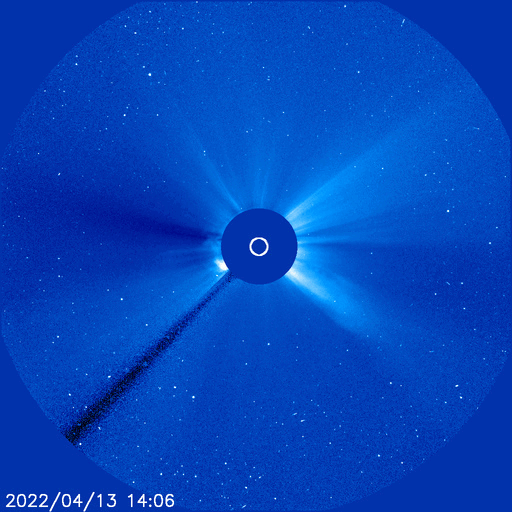 The storm cloud was hurled into space by an unseen solar flare on April 13th. If Earth were in the line of fire, a strong geomagnetic storm would be in the offing. Instead, Mercury will take the direct hit. CMEs hitting Mercury can scour material from the rocky planet's surface, adding material to its comet-like tail.
Helioseismic soundings reveal reveal the probable source of these explosions. There is a large region of intense magnetism on the sun's farside, probably a complex sunspot group. It will rotate over the sun's eastern limb less than a week from now.