========

https://youtu.be/uXReluBg8LY
California is Freezing! Scary Blizzard hit Sierra Nevada, CA, USA. A blizzard is battering the Sierra Nevada with blinding snow and wind — the latest cold winter storm to paint swaths of California white while adding to an enormous snowpack.


Flooding in Santa Barbara, CA  - https://youtu.be/EXFWcCs_JRU


Snow Storm in Utah, USA - https://youtu.be/QqOYNWMrZBc


Dramatic moment California rescuers save people from car trapped in flood water after 'historic' rainfall: San Francisco records second-wettest day in 174 YEARS
> A California group was rescued Saturday evening from a flooded street
> Five people were rescued from cars on an off ramp in Tustin, California
> Four of the five were taken to their nearby home where they are recovering
> The rescue comes as California continues to experience historical rainfall totals
> Downtown San Francisco recorded its second wettest single day in history Saturday after measuring 5.46 inches of rain.
> The rainfall contributed to the overflow of rivers, including the Cosumnes and Mokelumne, in the Sacramento area. On Saturday evening, officials said the Cosumnes River alone was expected to reach 15.5 feet.
> As of Sunday morning, Highway 99 was closed due to the ongoing flooding and overflow from the rivers.
>Evacuations were also ordered for multiple Northern California areas including El Dorado County and Santa Cruz County
> While the rain in SoCal has been welcomed after months of drought-like conditions, the weather has also caused major issues statewide, specifically in Northern California.
https://www.dailymail.co.uk/news/article-11590383/Californians-rescued-car-trapped-flood-waters-state-sees-historic-rainfall-totals.html
==
==
11/29/2022 -- Large volcanic fissures (cracks) open on the North Side of Mauna Loa in Hawaii What was postulated yesterday , fissures could form on the flank of Mauna Loa, has now taken place.
==
Hurricane over 110 km/h! Hundreds of wrecked cars after a storm in Hermosillo, Sonora, Mexico


LIVE - Tornado Warning in Pennsylvania! | 
Damaging Winds, Large Hail, Tornadoes

https://youtu.be/moXo1XNqUCY
MASSIVE STORM To Bring Potentially LARGE HAIL and Possible
TORNADOES | STORM CHASER LIVE
Live storm chasing across Nebraska with severe weather and large hail and tornadoes possible!
https://youtu.be/jvMzjzqOEys
LIVE: Severe Weather Dashboard (6/9/22)
=============================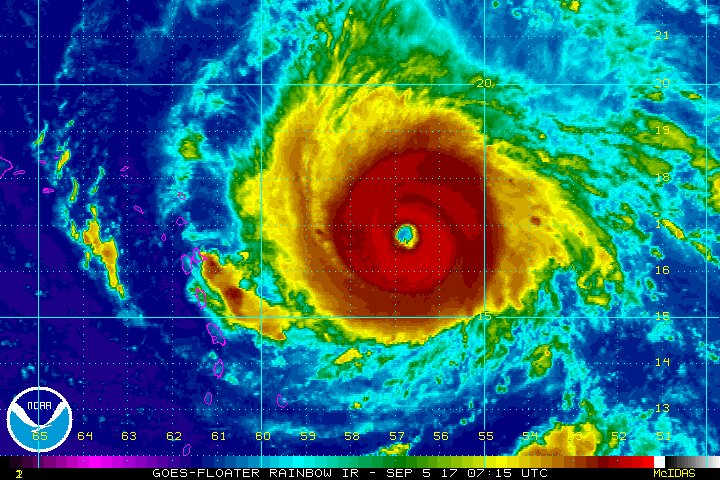 "Monster" Irma Is Now The Strongest Atlantic Hurricane On Record
As Florida Preps For "Catastrophe"
http://www.zerohedge.com/news/2017-09-05/hurricane-irma-strenghtens-extremely-dangerous-category-5-eastern-caribbean-lockdown
Update 3: The Irma hits just keep on coming, with the NHC Atlantic Ops twitter page reporting moments ago that as of this moment, Irma is now the stronger hurricane in the Atlantic basin outside of the Caribbean Sea and Gulf of Mexico in NHC records.

According to Bloomberg, Irma's current path - headed straight for Florida - has prompted the state to prepare for the "catastrophic" system. Unlike Harvey, which caused widespread damage, power outages and flooding and taking almost a fifth of U.S. oil refining capacity offline, Irma is a bigger threat to agriculture, with orange juice futures surging.

Airlines have canceled flights across the Caribbean and are adding planes to evacuate tourists, while cruise-line stocks have tumbled.

RELATED VIDEO at link above.
Another Powerful Hurricane Is Taking Aim At The US

A strike on Florida would be the first time since 1964 that the U.S. was hit by back-to-back storms of Category 3 or more and only the second time since 1851, Henson said. Irma is now among the 7 most powerful storms on record to cross the Atlantic.

"Our biggest concern is Florida citrus," said Joel Widenor, co-founder of Commodity Weather Group LLC in Bethesda, Maryland. "There is big enough fruit on the trees that the fruit could drop off, it could literally get blown off. The bigger issue is tree damage that is a lot harder to recover from."
Some more facts: Florida is the world's largest producer of orange juice after Brazil. About two-thirds of the state's citrus crop is located in the lower two-thirds of the peninsula. Orange juice for November delivery jumped as much as 6.9 percent to $1.4595 a pound on ICE Futures U.S. Tuesday, the biggest intraday gain for the contract since Jan. 28, 2016. Cotton for December delivery jumped by the 3-cent exchange limit, or 4.2 percent, to 74.88 cents a pound. Aggregate trading for both commodities for this time doubled compared with the 100-day average, according to data compiled by Bloomberg.

"There is an increasing chance of seeing some impacts from Irma in the Florida Peninsula and the Florida Keys later this week," the National Hurricane Center said after Governor Rick Scott declared an emergency.

There is still hope that a direct hit will be avoided: "The expected path has shifted considerably west over the last two days and can still change over the next two," said Olivier Jakob, founder of energy consultant Petromatrix GmbH in Zug, Switzerland. "We cannot yet rule out a move further west with a Louisiana risk."

Irma's track could shift as it nears Cuba and Florida, according to Bob Henson, a meteorologist with Weather Underground in Boulder, Colorado. One possibility is a turn to the north that would take the storm up the Florida peninsula.

"It is four to five days away," Henson said. "In hurricane-land that is a pretty long time span."
Beyond the threat to people and property in the Caribbean, the focus for now is on agriculture, Jakob said. Irma is leading traders to be "long orange Juice futures rather than gasoline futures," he said.

Only three Category 5 hurricanes have hit the contiguous 48 U.S. states, Henson told Bloomberg. The Labor Day Hurricane of 1935 that devastated the Florida Keys, Hurricane Camille in 1969 and Hurricane Andrew that cut across Florida in 1992. Andrew was originally classified as a Category 4 storm only to be upgraded years later after further analysis.

"It is obviously a rare breed," Henson said. "We are in rare territory."

* * *
Update 2: While few are willing to admit it yet, according to meteorologist Ryan Maye, Hurricane Irma is still intensifying, with winds up to 155-knots (180 mph) and that extrapolating Saffir-Simpson scale, 158-knots would be Category 6.

* * *

Update: Irma has been upgraded from a Cat 5+ Hurricane to "Potentially Catastrophic" Cat 5++ storm, with winds now near 180 mph gusting to 220 mph, still moving due west at 14 mph.

Here is the latest NHC update:

At 1100 AM AST (1500 UTC), the eye of Hurricane Irma was located near latitude 16.8 North, longitude 58.4 West. Irma is moving toward the west near 14 mph (22 km/h), and this general motion is expected to continue today, followed by a turn toward the west-northwest tonight. On the forecast track, the extremely dangerous core of Irma is forecast to move over portions of the northern Leeward Islands tonight and early Wednesday.

Reports from an Air Force Hurricane Hunter aircraft indicate that the maximum sustained winds are near 180 mph (285 km/h) with higher gusts.  Irma is a an extremely dangerous category 5 hurricane on the Saffir-Simpson Hurricane Wind Scale. Some fluctuations in intensity are likely during the next day or two, but Irma is forecast to remain a powerful category 4 or 5 hurricane during the next couple of days.

Hurricane-force winds extend outward up to 60 miles (95 km) from the center and tropical-storm-force winds extend outward up to 160 miles (260 km).

The latest minimum central pressure reported by reconnaissance aircraft is 931 mb (27.50 inches).

* * *

Irma has strengthened to an "extremely dangerous" Category 5 hurricane, the National Hurricane Center said in its advisory at 7:45am AST. According to the Hurricane center, NOAA and Air Force hurricane hunter aircraft data indicate Hurricane Irma has intensified into an "extremely dangerous" Category 5 hurricane on the Saffir-Simpson Hurricane Wind Scale with maximum winds of 175 mph (280 km/h) with higher gusts.

As of this moment, the hurricane is located 270 miles east of Antigua, moving west at 14 mph. States of emergency were declared in Puerto Rico, the U.S. Virgin Islands and all of Florida while people on various Caribbean islands boarded up homes and rushed to find last-minute supplies, forming long lines outside supermarkets and gas stations. This morning the Dominican Republic has issued a Hurricane Watch from Cabo Engano to northern border with Haiti; Tropical Storm Watch from south of Cabo Engao to Isla Saona.

According to meteorologists, Irma is the 17th hurricane in the Atlantic on record to have max winds >= 175 mph. Atlantic max wind record is Allen (1980) at 190 mph.

Ultimately, the question is how strong Irma will be when it inevitably makes landfall on the Eastern Seaboard, somewhere in the vicinity of Miami.

Meanwhile, officials across the northeastern Caribbean canceled airline flights, shuttered schools and urged people to hunker down indoors as Hurricane Irma barreled toward the region, now as an "extremely powerful" Category 5 storm. Irma's maximum sustained winds increased to near 175 mph early Tuesday.

According to AP, emergency officials warned that the storm could dump up to 10 inches (25 centimeters) of rain, unleash landslides and dangerous flash floods and generate waves of up to 23 feet (7 meters) as the storm drew closer.

"We're looking at Irma as a very significant event," Ronald Jackson, executive director of the Caribbean Disaster Emergency Management Agency, said by phone. "I can't recall a tropical cone developing that rapidly into a major hurricane prior to arriving in the central Caribbean."

U.S. residents were urged to monitor the storm's progress in case it should turn northward toward Florida, Georgia or the Carolinas. "This hurricane has the potential to be a major event for the East Coast. It also has the potential to significantly strain FEMA and other governmental resources occurring so quickly on the heels of (Hurricane) Harvey," Evan Myers, chief operating officer of AccuWeather, said in a statement.

In the Caribbean, the director of Puerto Rico's power company predicted that storm damage could leave some areas of the U.S. territory without electricity for four to six months. But "some areas will have power (back) in less than a week," Ricardo Ramos told radio station Notiuno 630 AM.

The power company's system has deteriorated greatly amid Puerto Rico's decade-long recession, and the territory experienced an islandwide outage last year. Meanwhile, the governor of the British Virgin Islands urged people on Anegada island to leave if they could, noting that Irma's eye was expected to pass 35 miles (56 kilometers) from the capital of Road Town.

"This is not an opportunity to go outside and try to have fun with a hurricane," U.S. Virgin Islands Gov. Kenneth Mapp warned. "It's not time to get on a surfboard."

Antigua and Anguilla shuttered schools Monday, and government office closures were expected to follow. On the tiny island of Barbuda, hotel manager Andrea Christian closed the Palm Tree Guest House. She said she was not afraid even though it would be her first time facing a storm of that magnitude.

"We can't do anything about it," Christian said by phone, adding that she had stocked up on food and water. "We just have to wait it out."

Both Puerto Rico and the U.S. Virgin Islands expected 4 inches to 8 inches (10-20 centimeters) of rain and winds of 40-50 mph with gusts of up to 60 mph. Puerto Rico Gov. Ricardo Rossello activated the National Guard, canceled classes for Tuesday and declared a half-day of work. He also warned of flooding and power outages. "It's no secret that the infrastructure of the Puerto Rico Power Authority is deteriorated," Rossello said.

Meteorologist Roberto Garcia warned that Puerto Rico could experience hurricane-like conditions in the next 48 hours should the storm's path shift. "Any deviation, which is still possible, could bring even more severe conditions to Puerto Rico and the U.S. Virgin Islands," Garcia said. The U.S. Virgin Islands said the school year would open Friday instead of Tuesday.

Gov. Kenneth Mapp said most hotels in the U.S. territory were at capacity with some 5,000 tourists. He noted the storm was expected to pass 40 miles (64 kilometers) north of St. Thomas and warned that the island could experience sustained winds as high as 80 mph

"It's not a lot of distance," he said, adding: "It could affect us in a tremendous way. I'm not saying that to alarm anyone or scare anyone, but I want the Virgin Islands to be prepared."

Residents on the U.S. East Coast were urged to monitor the storm's progress due to the possibility it could turn northward toward Florida, Georgia or the Carolinas. "This hurricane has the potential to be a major event for the East Coast. It also has the potential to significantly strain FEMA and other governmental resources occurring so quickly on the heels of (Hurricane) Harvey," Evan Myers, chief operating officer of AccuWeather, said in a statement.

In Miami-Dade County, the early scramble was on to stock up on hurricane supplies, reports CBS Miami. People were shopping for gasoline, generators, food, batteries, and everything else they'd need get by were Irma to hit the region hard.

"We are not yet at the height of hurricane season and people have not taken steps to get prepared yet," Miami-Dade County Emergency Management Director Curt Sommerhoff said Monday. "We are encouraging them to take those steps today." Miami-Dade officials were to meet Tuesday to assess the danger.
Last edited by Carol on Thu Mar 16, 2023 7:46 am; edited 12 times in total