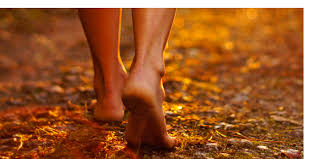 How Walking Barefoot Can Heal Vital Organs
https://www.youtube.com/watch?v=d33FZTuHpkg&feature=emb_logo
Emerging scientific research has revealed a surprisingly positive and overlooked environmental factor on health: direct physical contact with the vast supply of electrons on the surface of the Earth. Modern lifestyle separates humans from such contact. The research suggests that this disconnect may be a major contributor to physiological dysfunction and unwellness.

Reconnection with the Earth's electrons has been found to promote intriguing physiological changes and subjective reports of well-being. Earthing (or grounding) refers to the discovery of benefits—including better sleep and reduced pain—from walking barefoot outside or sitting, working, or sleeping indoors connected to conductive systems that transfer the Earth's electrons from the ground into the body.

There are spots on our feet and palms that are associated with all the vital organs in the body. By stimulating these points we are actually massaging the internal organs and improve the flow of vital energy through them, thereby becoming healthier and more vital.

Long ago, people used to walk barefoot on stones, grass, and sand and thus the process of acupressure was unfolding naturally. In our bodies run bioelectricity that gives energy to all our organs which makes them function properly and balanced. This bioelectricity flows through the meridians' network, which is similar to the bloodstream.

Meridians start of each finger of both hands, extending through the body and end up on the fingertips of the toes. When they flow, electricity flows free and all organs receive the energy they need for optimum performance.

When energy cannot come to some organs, due to the distortion of its work, the disease occurs over time. There are a series of "circuit breakers" for all our vital organs and body parts, the hands, and the soles. Head points are located on the fingers: brain, sinuses, eyes, and ears. The upper part of the hand and the foot there are points for the upper body, and the lower part of the hand and the foot are for the lower body.

If you want to activate these points you need to massage your feet or walk barefoot. For gaining optimal health and vitality you need to massage each hand and foot for 5 minutes every morning. The pressure must be strong but not too strong because you do not need to feel pain while performing this massage. With the help of acupressure, you can get rid of the problems with sinuses, problems with digestion, stress, lack of energy, frequent infections, heart problems, and hormonal disorders.