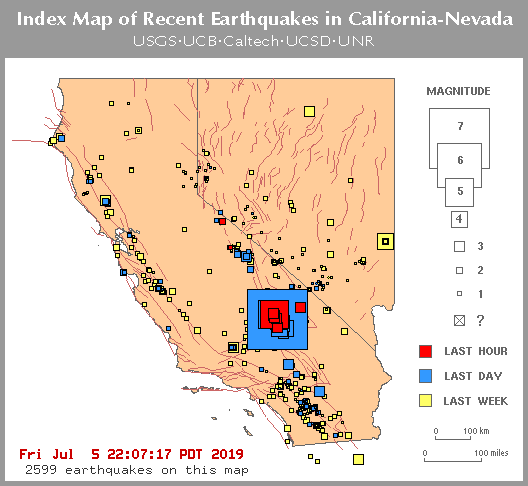 7.1 MAG ROCKS CA
125 MILES N OF LA
L I V E
(Sat July 6th) LATEST
https://losangeles.cbslocal.com/2019/07/05/6-9-quake-rocks-southern-california/
SOCAL WARNING: STRONGER QUAKES WITHIN DAYS?
https://www.dailymail.co.uk/news/article-7216129/California-face-BIGGER-quake-days.html

Geologists say the 6.4-magnitude quake will produce an aftershock which could be even more powerful

The new ShakeAlert app in Los Angeles detected the quake but did not send out a public notification

The quake caused fires, cracked roads and broke power lines in California, but caused no serious injuries. It was the most powerful earthquake in Southern California since a 7.1-force quake in October 1999



https://www.youtube.com/watch?v=Y4hg92mtNyw
USGS notified Tulare County Fire - warning about Garlock Fault line.

6.4 MAG WORSENED SEISMIC STRAIN...

UNUSUAL NUMBER OF AFTERSHOCKS...

1,700 and counting...
https://apnews.com/63dbb0812a9a4cfba4f0f14f2312590d



COULD LAST YEARS...
https://www.latimes.com/local/lanow/la-me-aftershocks-ridgecrest-earthquake-20190705-story.html

LA to update warning threshold...
They are evacuating the dependants and non essential personnelfrom China Lake...telling the to go Ventura.

NEWS ANCHORS TAKE COVER ON LIVE TV...
https://variety.com/2019/biz/news/news-anchors-take-shelter-on-live-tv-during-earthquake-watch-1203260443/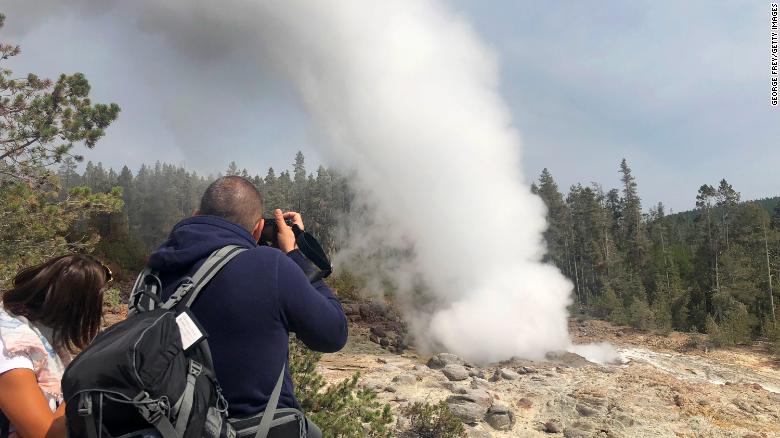 Surge in Yellowstone geyser activity…
The Steamboat Geyser in Yellowstone National Park is approaching a record number of eruptions The Steamboat Geyser at Yellowstone National Park is no Old Faithful. The world's tallest active geyser -- whose major eruptions shoot water more than 300 feet into the air -- is known to be unpredictable. But if there was ever a year to witness Steamboat's spectacular surge of water, this might be it. We're just over halfway through 2019 and the Steamboat Geyser has already erupted 25 times, according to the US Geological Survey. That puts it on track to surpass last year's record of 32 eruptions -- the largest number ever recorded in a year. The record before that was 29 eruptions in 1964. The Steamboat Geyser erupted seven times just last month alone, the USGS said. June's outbursts, which occurred on the 1st, 7th, 12th, 15th, 19th, 23rd, and 28th, also smashed the record for the shortest interval between eruptions -- just over three days.
https://edition.cnn.com/2019/07/04/us/yellowstone-volcanic-activity-trnd/index.html

and this was just odd...



Anchorage shatters all-time high temp record as Alaska swelters...  90°!

The temperature in Anchorage, Alaska, soared to 90 degrees Fahrenheit on Thursday, shattering the city's all-time record-high temperature by 5 degrees. The previous record of 85 F was set in 1969. It also shattered the daily record of 77 F for July 4, which had stood since 1999. Records in Anchorage date back to 1952.
https://www.accuweather.com/en/weather-news/sweltering-heat-wave-produces-all-time-record-high-in-anchorage-on-independence-day/70008741


I spotted this warning below from another site for 2020 and just want to mention that we were in the 7. San Francisco earthquake in 1989. This was when parts of the San Francisco Bay Bridge collapsed and the freeway near where I used to work collapsed crushing those underneath. Being prepared is important. Power went out, signal lights went out, communications was a mess. The floor to ceiling book cases crashed down in my office sending plants and books all over. We were in the conference room on the 3rd level next to the library when the quake hit. I thought the ceiling was going to collapse. Had PTS for months afterwards due to the aftershocks. Large quakes are dangerous and scary. Aftershocks are scary. Not having essential supplies is scary. Being prepared with supplies on hand gives peace of mind in the midst of a disaster. Be smart, stock up. Be prepared.


"Frankie: Attention Citizens of California, Attention Citizens of Oregon, Attention Citizens of Washington, Attention Citizens of Vancouver British Columbia Canada and Attention Citizens of Baja California Mexico.  Earthquake Warning has been Issued for California and it will be 9.0 or Greater Magnitude Earthquake. People in California you have to be Prepared for Earthquake it will occur in September 2020, the Earthquake Will be So Powerful in California It May Destroy Lots of Houses. It May Destroy all kinds of Telephone Poles. It May Destroy all kinds of Transformers and It May Knock all the Telephone Poles Over in California. People in California Be Prepared Have your Medical Kits, Flashlights, Candles, Crank Up Radio and Have your Everything Ready.  The Earthquake will be So Powerful in California it may Destroy Everything the Earthquakes are Too Unpredictable and We Can't Predict Earthquakes.  Golden Gate Bridge May Collapse it will affect Arizona, New Mexico, Nevada, Utah, Colorado, Wyoming, Montana and Idaho The Earthquake will be So Powerful and it may Destroy Everything People in California Be Prepared for Major Earthquake in September 2020."