26 minute duration.
This was published 4-25-2022 *last Monday on Ken McClellan's channel.
Ken McClellan, who narrates this video ,is a well respected researcher/author in the "Electric Universe" circles and KNOWS HIS STUFF ABOUT SOLAR EVENTS and our past Earth's catastrophic astronomy. Ken's video uses many ancient examples of the "creation/destruction symbol--The Argha Noa" 
HE REPORTS: "IF YOU HAVE A BUNKER...A "SAFE-ROOM" OR
A CELLAR...I highly recommend that you spend this weekend
in it--just out of deference to our ancient ancestors!"
BE ON ALERT FOR THIS WEEKEND--"DOUBLE ECLIPSE" 
WITH 
"ALIGNMENT AND SIGNS IN THE SKY" 
according 
to our 
featured video narrator.
CO-ROTATING INTERACTION REGION: Geomagnetic storms (G1-class) are possible on April 29th when a co-rotating interaction region (CIR) is expected to hit Earth's magnetic field. CIRs are transition zones between fast- and slow-moving solar wind streams. They contain shock waves and compressed magnetic fields that do a good job sparking auroras. 
AFTERGLOW OF A GEOMAGNETIC STORM: An interplanetary shock wave hit Earth's magnetic field on April 27th. It wasn't a big one--just enough to spark an unexpected G1-class geomagnetic storm. Greg Ash photographed the afterglow from Duluth, Minnesota: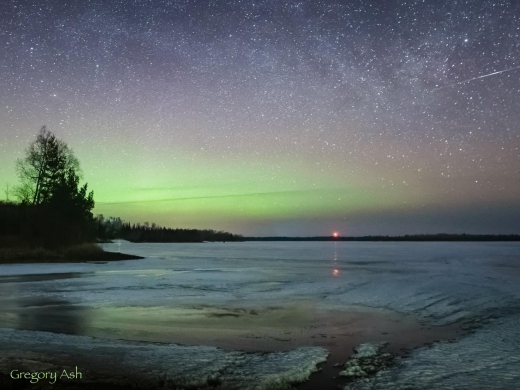 "It was really neat listening to the ice growl and shift while watching the auroras," says Ash. "A meteor streaked through the frame just as I was taking the picture."
The shock wave was probably a minor CME overlooked until it hit Earth. Right now the sun is crackling with solar flares, hurling multiple overlapping CMEs into space every day. A faint CME may have slipped through the net of NOAA analysts to deliver yesterday's surprise storm. This will happen increasingly often as Solar Cycle 25 intensifies.
https://spaceweather.com/