This subject deserves a thread on its own for there's so much mystery surrounding the lives and works of Arthur and
Merlin, also the connection with Avalon and for Avalon being present in the name of this Forum: The Mists of Avalon or..... with
a little twitch: The Myst(ery) of Avalon. I mentioned to somebody, yesterday, that maybe I will create a thread here, in that name.
I'm interested to find facts and mystery about Avalon, while living in that area. I'm trying to include down-to-earth-ness with
esoteric views and visions, legend and myth, so that Camelot and Avalon reveal their true colors, to be enjoyed and to inspire
those of you who are interested in this part of Britain's past. And who knows, a part in Britain's future too? Would it be worthy
of sharing about it here in the Mists? At least I'll try to make it worthy to be a pleasure for eyes and hearts of those who visit
this place.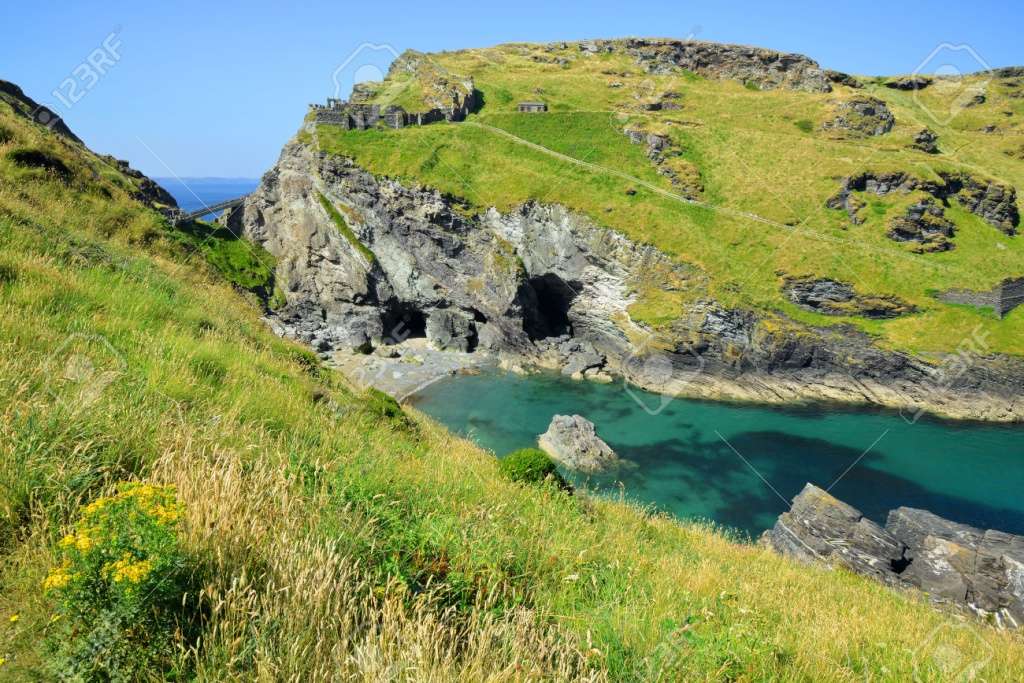 This is a picture of Tintagel in Cornwall, the ruins of buildings on shore once were part of Castle Camelot, of which the ruins are
still present on a peninsula, on the other side of that bridge in the picture, where the sea is visible. That place is supposed to
have been the place where King Arthur lived. Who, according to legend, washed ashore in a big wave, right into Merlin's arms,
as a baby. The left of the two caves in that picture is Merlin's cave. Opposite of Merlin's cave, down at a little beach, is a
beautiful waterfall and when I was down on that little beach, at low tide, I felt very good being there. I often leave that place
with a bit of sadness. Many pictures I've made, when down there, are magical, be it inside of the cave or outside on that beach,
with such beautiful variety of stone in the rock-face and even traces of tin. The feeling that once there were boats ashore at
that place, was very strong. Today I found evidence of it, in the picture below. How I would've loved to be in that moment!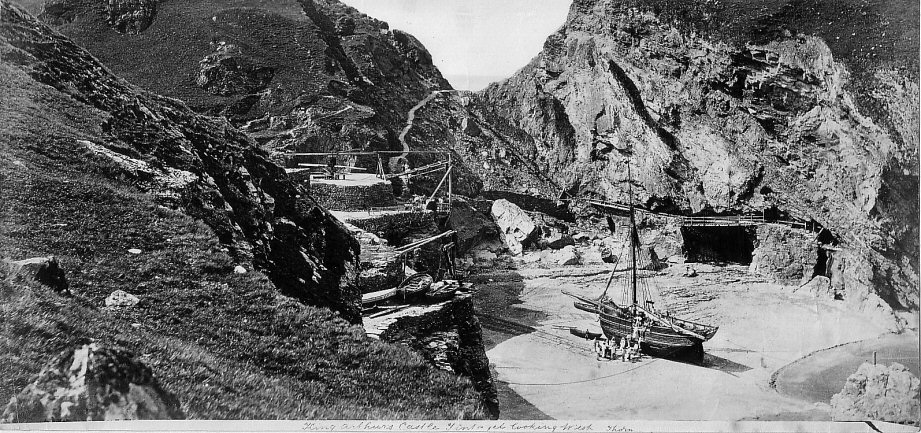 Look what I found on the tintagelweb site, on the page http://www.tintagelweb.co.uk/King%20Arthur.htm

"Arthur has always embodied the highest, the best aims of the human spirit. and many of his battles against the Saxon invaders
are symbolic of our own battles in life. The search for the Holy Grail is, in fact, our inner journey".