The World's Biggest Biometric Database Keeps Leaking People's Data
India's collection of citizens' fingerprints, faces, and irises was meant to simplify identification for 1.13 billion, but it's ignited a privacy firestorm.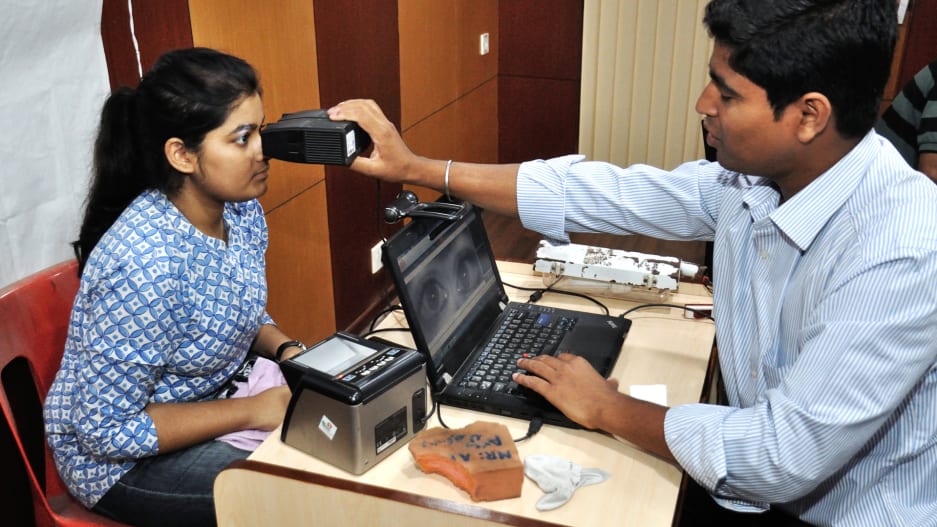 India's national scheme holds the personal data of more than 1.13 billion citizens and residents of India within a unique ID system branded as Aadhaar, which means "foundation" in Hindi. But as more and more evidence reveals that the government is not keeping this information private, the actual foundation of the system appears shaky at best.
On January 4, 2018, The Tribune of India, a news outlet based out of Chandigarh, created a firestorm when it reported that people were selling access to Aadhaar data on WhatsApp, for alarmingly low prices.
#TRIBUNEINVESTIGATION — #SECURITYBREACH | by @RachnaKhaira
Rs 500, 10 minutes, and you have access to billion #Aadhaar details
https://t.co/3vlJhbP94t
pic.twitter.com/PRMutzR75d
— The Tribune (@thetribunechd) January 3, 2018
The investigation followed a man named Bharat Bhushan Gupta, a village-level entrepreneur who was lured into buying access to the database by people who approached him on WhatsApp. Gupta later realized that he had access to much more information than he'd asked for.
Concerned about what this might mean for ID holders, Gupta attempted to notify the Unique Identity Authority of India (UIDAI), the agency responsible for issuing Aadhaar numbers, about the problem, but was unable to confirm that UIDAI was aware of or addressing the problem. Gupta is one of 270,000 such village-level entrepreneurs who operate Common Service Centres responsible for various e-services between governments, businesses, and citizens.
He then approached Tribune journalist Rachna Khaira, who undertook the investigation.
Following the investigation, India Today conducted a "sting operation" of their own to confirm the findings of the Tribune reporter.
Operation #AadhaarLeaks
Your Aadhaar details on sale for just Rs 2!
Watch this India Today special investigation.#NEWSROOM Live at
https://t.co/4fqxBVUizL
pic.twitter.com/aUFypsiOhG
— India Today (@IndiaToday) January 5, 2018
Inconsistent Responses From Government
The UIDAI's response to the breach was to file a criminal complaint against Rachna Khaira, who conducted the investigation into the breach of personal data and called it "misreporting." When the Editors Guild condemned penalizing the reporter, the UIDAI's response was to justify their action.
read on:
https://www.fastcompany.com/40516447/the-worlds-biggest-biometric-database-keeps-leaking-peoples-data
Love Always
mudra