mudra wrote:

Lionhawk wrote:

As far as the pic goes, IMO, it is extraordinary. To catch something like that in broad daylight, to me is amazing. I did have the pic analyzed by a skeptic and he couldn't refute it. I have since tried to make contact but to no avail. What needs to happen with this pic is somebody needs to do a full reading on it. Someone in a neutral position to do so. Would you like to volunteer and see what you come up with, Mudra? Maybe Carol? How about you Swanny?

Tomorrow will be two years since Buster has passed. He is sorely missed.

I asked because this is one pic and an event that I did not pick up on when it occurred. It would seem that my Spidey senses were on vacation that day.

Namaste' [/color][/i][/font][/size][/color]

There is quite a bit to catch up on this thread. I am however on my way to Spain to visit my children for the Christmas holidays. So I am kind of packing and finishing admin cycles and so on at the moment and am running short of time.

But before I go I want to share the following while it's still fresh and new. After you asked for our impressions on that photo Brook took LionHawk a good 10 minutes passed and then something popped to mind.

I had said earlier on I was seeing more than one visitor in that photo. One of them on the top left made me think of Buster and I thought it seems this is Buster's double or Buster's light body. The body one uses in Dream time.

Then there was this elongated one above him and I also saw a smaller shape curled in the grass on the right. That was my first impression when I discovered the photo.

Then on a deeper look after you asked this is what appeared to Consciousness. On the top left Buster's double, in the center with a human form kind of shape Brook's double and on the right curled in the grass the cat's double. You didn't perceive it LionHawk because this was Brook's vision and personal message of what was yet to unfold. On some level, she knew death was impending, that the cycle was coming to an end but on another one, she didn't want to know so I don't exactly know what she made out of this. Her two allies prepared to accompany her on her journey.  

As a side note, you'll all understand this is what came in the field of my own perceptions. My own way to translate what I perceive. So it's quite subjective.

Love from me

mudra
A huge thank you, Mudra!!!!!!!!!!!! Subjective? Indeed! What makes it subjective, is the translation of what you perceived into text. Very difficult to take a holographic snapshot of this timeline and convert it into text is a stepdown of sorts especially when we use this language to convey a mere thought.

But what you have conveyed, makes sense on one level. Actually, I am amazed by your interpretation because, in my realm of knowing, it is something I didn't even know was possible. The doubling effect having it projected in such a way with a spirit.

So basically, what you are saying is Brook projected this? I can relate to that simply because she took the pictures and that she was focused on the camera lens of her iPhone. So basically she emprinted the photo and that is why my Spidey senses didn't pick up on any energy signatures. That makes total sense to me. And in part, because of my filters, I only saw one entity because we were a family unit. We were one. This photo became a reality because all three of them are no longer here. Brings tears to my eyes. I would trade anything or do anything to have them all here once again.

A couple of things with this picture is that Buster and Sasha had no reaction when this occurred. The other thing is the energy streams going to the ground, which tells me that Brook anchored this level of consciousness and her thoughts to the planet.

I did attempt to do a reading on the picture, and I did pick up on female energy for lack of better words but that was about it.  Here is another one.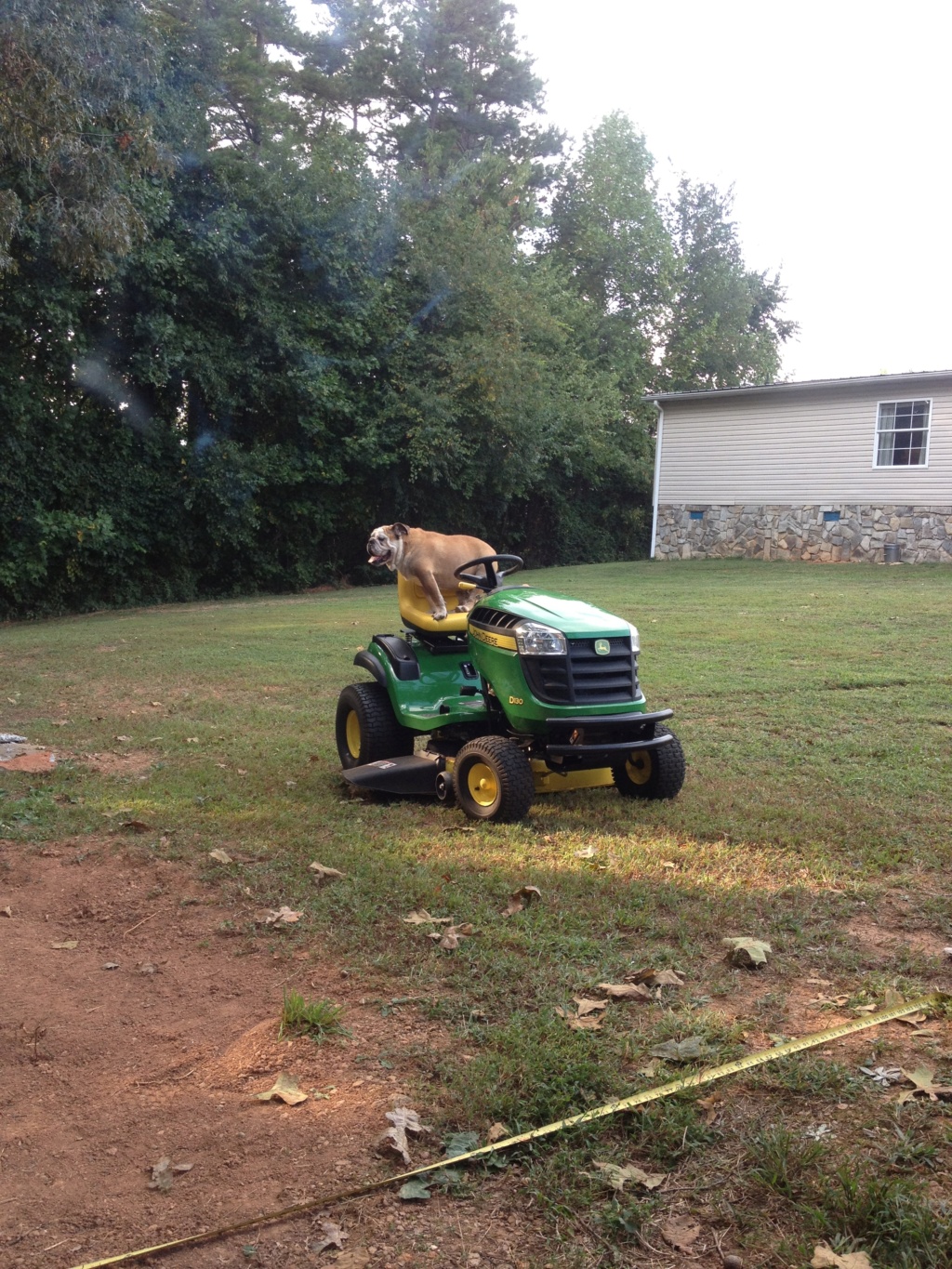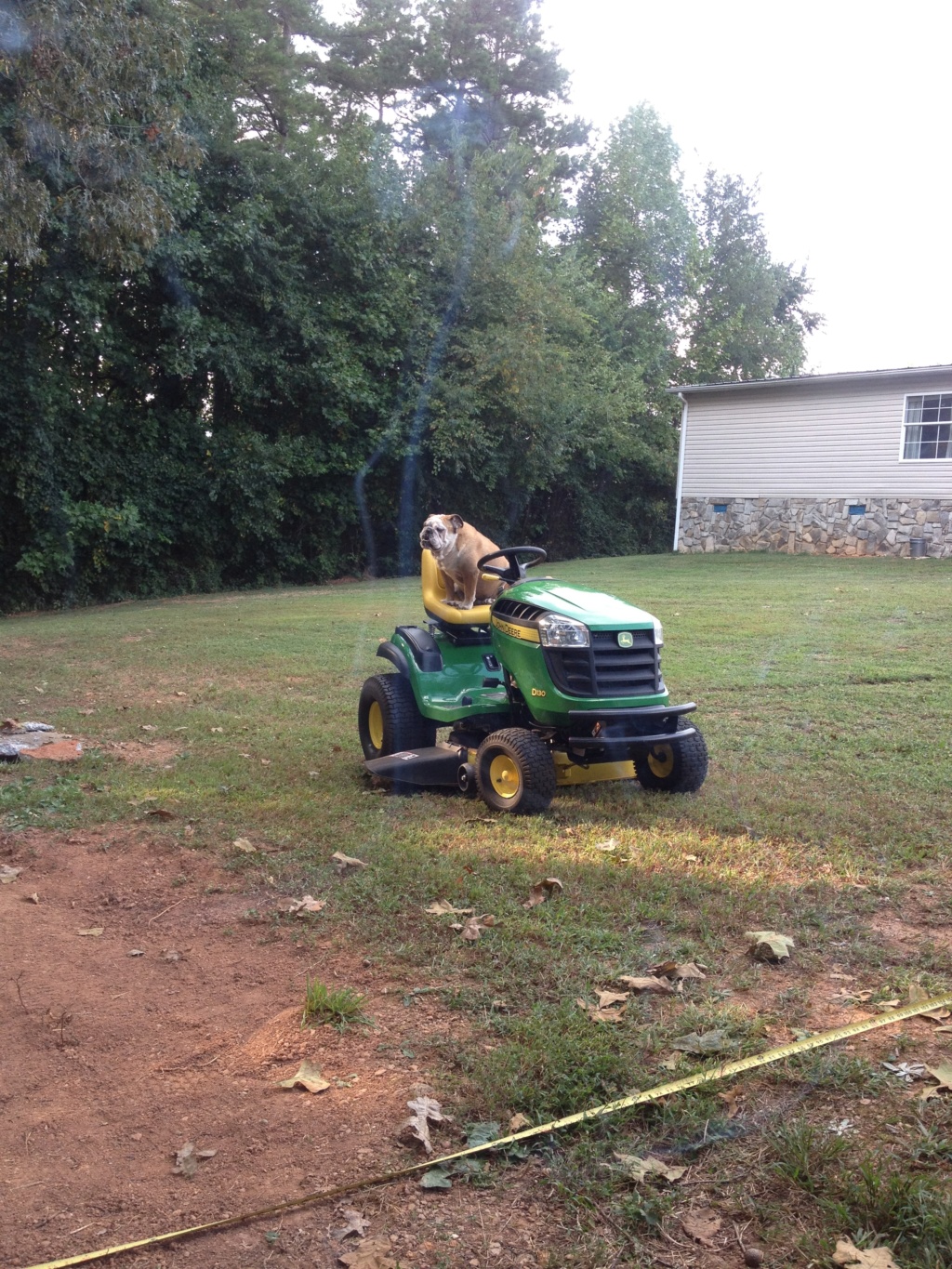 In the first pic, you will see this forming up. On the second one, you can see an energy stream coming down right in front of the output shoot of the mower deck, but you will have to magnify it up to see it. The movement of this entity starts from the left and goes to the right. It stands over Buster and then heads up the hill toward the house and disappears. I had thought it was a nature spirit.

Anyways, I do hope you have a safe trip to Spain and that all is well with your family during this holiday season. Wishing you the best Mudra! And again thank you!

You had me @ Namaste'
'