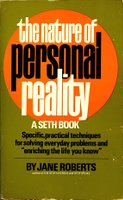 I found this book.
I am reading it .
I am loving it.
I now share it.
The story is about me
The story is about you
Hopefully you will know yourself a little more as you go along.
I'll post here a few quotes that I found relevant.
Would you at some point want to read the book yourself you'll be able to find it through the internet.
I'll take my quotes from a pdf of the book I found at the following link:
http://shemeam.com/pdf/Jane_Roberts-The_Nature_of_Personal_Reality.pdf
Love Always
mudra