Mercuriel wrote:

Arrrggghhh

- I can't see the Videos above due to where I am.

Is this True ? What is meant by the Sun going Dark in the reference to the Videos being Posted ?

Sorry - Otherwise I'll have to wait over 8 Hours to see if I should even look at Them

LOL

...
I made some screen shots for you .
NASA images of the SUN:
15' the top went dark
than another 15'total blackout
another 15' the right side comes back to light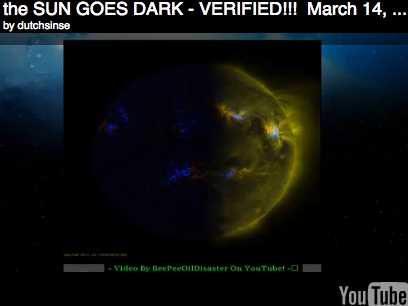 and another 15' and the whole sun is in the light again .
different sources reported it .
Worth having a look at it Mercuriel

Tell us what you think .
Love from me
mudra